Race night success
Posted in Fundraising by admin, on Nov. 27, 2017. Last changed on Nov. 27, 2017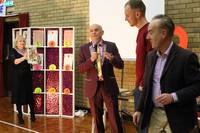 Over 100 people turned out to enjoy the club Race Night hosted by Ray and colleagues, to boost club funds.
Again highly successful, the Club funds have been boosted substantially, thanks all who came along and supported our effort.
Fish and chips were supplied by Chip Inn who also sponsored a race. Thanks also to all of the race sponsors, RDM Sprint, Cunninghams Auto, Delfs Garage, Hempnall Butchers and Delicatessen, David and Annette Pointer, Chris Willis (Norfolk Painters), Richard and Mandy Moss, (Carousel Caravans).
Thanks also to everybody who 'purchased' a horse and had such fun watching it lose (other than the Secretary and Mrs. S who won two races......).
We will definitely make this an annual event.
For those interested, there are a few photos on the website Galley.
Return to Latest News »