Ray Youngman
Posted in Club News by admin, on Dec. 10, 2020. Last changed on Dec. 10, 2020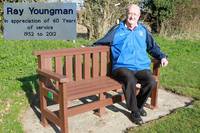 All at the Club are saddened to hear of the passing of Club stalwart, Ray Youngman.
Ray was involved with Hempnall FC for some 60 years until he retired from active duties within the club, though continued to prepare the pitch until 2015.
Until very recently, Ray came to watch matches, and he had a seat dedicated to his services to the club.
We send our condolences to Jill and family.
For anybody interested, there is a page on this website dedicated to Ray Youngman.
Return to Latest News »