Pre-season friendly at Bungay
Posted in Club News by admin, on July 18, 2018. Last changed on July 18, 2018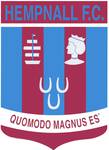 Hempnall played their first pre-season friendly at Bungay Town. On a firm, flat and true, well watered pitch, the only green space in a parched area, Hempnall knew it would be a very hard game against the Suffolk Senior Cup finalists, and Anglian Combination first division outfit a full two divisions above Hempnall.
This Hempnall squad is primarily that which ended last season on a high note, and the gelling and camaradarie was evident for all to see.
We were treated, after a couple of early scares, to an entertaining, end to end game, any pre-match thoughts of Bungay wiping the floor with Hempnall were soon dispelled, Hempnall easily matching their opponents for all but 15 minutes of the 90 minutes.
Hempnall played some very attractive, flowing football, and despite only managing to field a bare 11 due to illness and work call-offs, the fitness levels allowed mobility to be sustained over the duration of the game, and the team was able to maintain a good standard throughout, with great defending and breakaway attacks.
Hempnall had a number of chances and half chances, at least equal to Bungay's, a mobile defence intercepting Bungay's attacks, setting up breaks for the excellent midfield and forward players, all that was lacking was the finish, with somewhat wayward shooting, or final ball. That will all come as the pre-season progresses.
For reasons the managers are still analysing, Bungay scored four goals in a ten minute period, belying Hempnall's equality in terms of overall play, resulting in an unjust scoreline, we were left wondering how that happened – a bit like France's victory in the World Cup final, but this time it wasn't refereeing decisions that affected the game.
Bungay is clearly a team that will comfortably maintain their senior status, something their excellent facilities deserve, best of luck to them.
There was no MOM, the effort of all 11 players plus the sub goalkeeper, to whom no blame for the goals can be attached, was first class, this was the epitomy of a team performance. In that, I'd include the joint managers.
Finally, congratulations from the club to Bunno for, after 22 years, finally making an honest woman of Kerryanne!!! Best wishes from all at the club.
Return to Latest News »