Squads this year
Posted in Club News by admin, on Aug. 9, 2021. Last changed on Sept. 18, 2021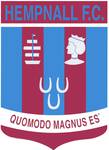 We are very pleased to say we have once again secured three squads for this coming season, a great achievement by our managers.
The first team is again managed by Aaron Bunn, with Tristran Docherty stepping in to assist, and Jason Trett still there to assist as required.
The Reserves welcome back Tom Radford, assisted by Chunk Elphick-Wilson.
The new Sunday team is managed by Tristran Docherty and James Bennett.
Return to Latest News »