Thanks again to John Ellis
Posted in Club News by admin, on Jan. 9, 2018.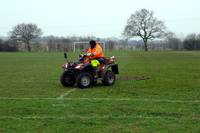 All at the club much appreciate the help of John Ellis to maintain our pitch is the absence of our usual machine.
John kindly uses his machine at no cost to the club, even supplying the petrol.
Many thanks John, we would, at this time, have major difficulties without your kind help.
Return to Latest News »